I know everyone out there is just dying to know why I'm so gorgeous, and the secrets finally about to come spilling out. I've made a list of some of my favorite non-toxic, eco-friendly beauty items on the market that I highly recommend to anyone looking to detoxify their routine a little.
Monistat Chafing Gel
How many of you use a primer before putting on your make up each morning? If you've never tried it, you're missing out! Primer is great at creating a smooth palate before you paint your face, and it helps keep make up on longer. However, primers usually run you $30+, a little steep for most humans. The main ingredient in
Monistat Soothing Care Chafing Relief Powder Gel
,
dimethicone,
is the same in most face primers. So for $6, you can have a nice primer and save those other $25 for a bottle of vodka!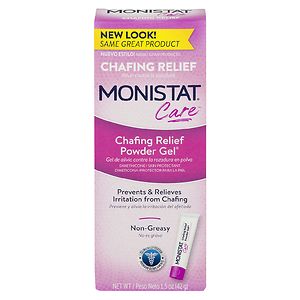 If you really want to rub in the embarrassment, call your mom and ask what section of the store you can find the chafing creme in and have her laugh at you for 20 minutes saying "you need chafing creme? It's by the condoms! Giggle giggle giggle giggle giggle giggle..." And people think I'm immature! Well yes, you'll find this chafing creme along with the vibrating rings and Summer's Eve. Or save yourself the embarrassment and order it
online
.
Coconut Oil
Coconut oil has a
million and one uses
, most commonly for eating, but if you like to play with your food, it's also great as a lotion! I know, rubbing oil on your body sounds pretty messy and greasy, but I swear it's super fun. And news flash: I
hate
the feel of lotion on my hands, but I can actually leave this on for at least five minutes!. It leaves you feel soft as a baby's bottom- or what I image they feel like, I don't often rub baby's bottoms.
And for you scarlet harlots out there, coconut oil can also be use as a lubricant. However, it's not compatible with latex condoms, so be aware of this before you've got yourself a little mini-me running around. You can find coconut oil at any health food store, or next to the olive oil in most grocery stores.
Ole Henriksen
If you're looking for the most awesome skin care line around, than this is it. Ole Henriksen products are made from all natural ingredients that you can actually understand (green tea and licorice extract anyone?), and they feel like kittens licking your face. They even all smell delicious!
I spent a good five years after high school struggling with the perpetual cycle of constant acne perpetuated by pore-clogging liquid foundation and exacerbated with harsh chemicals each night. Thankfully, my face finally cleared up within a month of introducing three big changes: I started using Ole Henriksen skin care, I adopted a vegan diet, and I started changing my pillowcase every single night (because your pillow cases and sheets are nasty gross and riddled with bacteria).
Based on a recommendation, I started using the
Red Tea Cleanser
and
3 Little Wonders
kit, a collection of full size day and night lotions along with a brightening serum that helps with ages spots and acne scars. These four bottles will cost you $100, but they last for 3-4 months, depending on how careful you are with them. I easily used to spend $30+/month buying random products I thought would help my skin, so I am completely willing to shell out the money for Ole Henriksen in order to have clear glowing skin! They are available in Sephora as well as
online
.
Korres
Many people already know the wonders of Bare Minerals powder foundations. What many don't realize is that their powder foundations contain talc, which is a major acne irritant. Once I found that out, I dropped those messy containers like burning bagels and went back to liquid foundation for awhile.
A few months after I switched my diet and skin care routine, I started using
Korres Powder Foundation
and the rest of the straggling acne disappeared completely. And I got to stop changing my pillow case every night!
Korres
contains no talc, along with no other nasty fillers and chemicals. Their powder foundation has rose oil to hydrate your skin, but take it from an oily skinned girl- it doesn't cause a shiny mess at all! The whole Korres brand is fantastic! I've tried a bunch of their make up and body care items and have loved every single one.
Aveda
Aveda products are mostly vegan and made out of natural ingredients like argon, rose, lavender, and aloe. Their company uses sustainable methods like renewable energy and recycled packaging, a real plus in today's corporations. Most importantly, their products are made without sulfates or parabans. Sulfates are those nasty ingredients that make your shampoo sudsy and your hair fall out, and parabans are nasty preservatives that keeps ingredients artificially fresh for longer periods of time.
My favorite products are the
Smooth Infusion
line, especially the
Style Prep Smoother
. I just use a tiny dollop everyday before blow drying to keep my hair shiny and help protect against my straightener. You can buy a travel size serum for $7 and have it last for over 6 months!
These wonderful hair care products are things I don't get to buy too often- with all the expensive skin care products I use, I need to make a few cuts and these get the ax. Instead, I usually use Giovanni, Ren Pure, or Organix hair care, all great cleansers but will only run you $6 at the drugstore. But if anyone wants to buy me a present, I'll let you send me some Aveda Smooth Infusion shampoo and conditioner. I also really enjoy wine.
Now those are just a few of the eco-city beauty tips I've got up my sleeve. I'll be back with more of my favorite products next week, including some home made recipes and more budget friendly items!