"They have a saying here in Cajun Country- 'My family is my business, and my business is my family'" - Norman Marmillion, owner of the Laura Plantation that resides along the Mississippi River in New Orleans
My best friend and I, along with our mothers, arrived in New Orleans just past midnight and were promptly brought to our hotel that was located right smack in the middle of the drunken Mardi Gras festivities. Five seconds after exiting the airport shuttle, a young girl collapsed and hit her head on a pole, followed by the four of us being stuck in a room with 1 King sized bed, and finally, a drunken boy who would not leave us alone, requesting to stay in our room with us. My friend and I were worried- what had we brought our mom's to? This trip? Not destined to be great. However, we were wrong!
Day 1- Sightseeing Tours
After about 3 hours of sleep, we all rose to the silent city on our plantation tour. It was bright and sunny and the only people about were the crazy parade fans who were already claiming seats for the spectacle that would come in about....four more hours...
Our first stop was the
Oak Alley Plantation
, a
gorgeous
property set amongst a traditional southern landscape. Quiet chirping and a cool sunshine that you swear is whispering a lullaby in your ear. The tour consisted of a small and grand two-story home of the original occupants Jacques and Celina Roman. This land has been featured in a number of films, including Interview with the Vampire and Beyonce's 'Deja Vu' music video. It was also the subject of an episode of Ghost Hunters.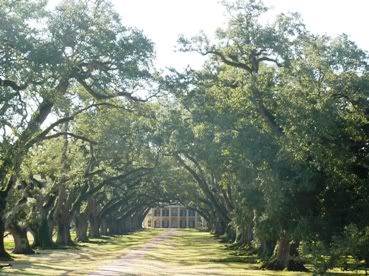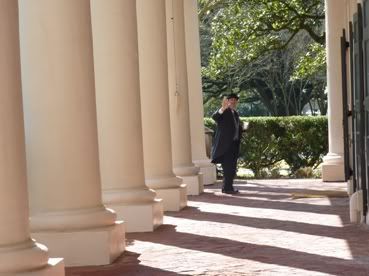 Next up, we shuffled over to the
Laura Plantation
, a tradition creole household that was the location of the successful Duparc family. It was carried on by four generations of women, until Laura, the farm's namesake, 'quit' the family to live her own life, and wrote a book entitled 'Memories of the Old Plantation Home' to tell her grandchildren about her family's plantation past. We were lucky and had the owner of the plantation, Norman Marmillion, give our tour. He was very captivating and entertaining.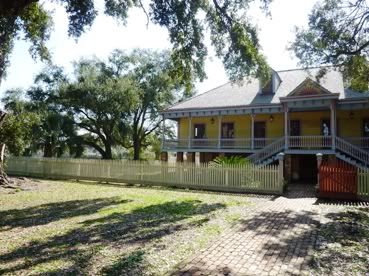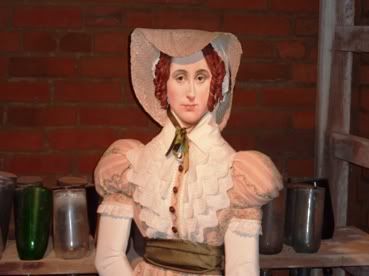 "Rollin....rollin....rollin on a river. Listen to the story now!"
We ended our day with a Riverboat Cruise aboard the
Natchez Steamboat
. The 1 1/2 hour sail traveled up and down the Mississippi River while a New Jersey accent droned on over the loudspeaker about the history of the oil refineries and boat docks. Needless to say, but a tour with jazzy music would have been a tad more enjoyable.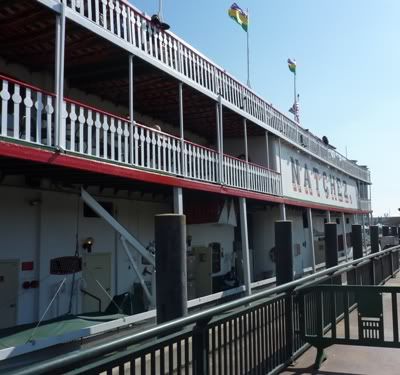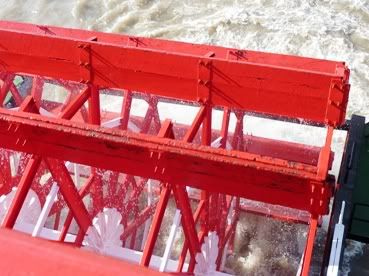 Days 2 & 3- French Quarter Exploring
Mardi Gras traffic prevented us from taking the famous St Charles Street Car down to the garden district, so we spent the remainder of our two days exploring the French Quarter and watching parades. And of course, celebrating Fat Tuesday with the traditional 'spirited' festivity. The highlights included:
Bourbon Street- the bar capitol! We were all too scared to come here after dark, so we daredevils hit up this street for a little sightseeing in the mornings. The main event were the people on balconies throwing beads to the pedestrians. They were easy to come by on Monday, but come Fat Tuesday, they were sticking to their guns about flashing for merchandise.
Cafe du Monde
- but of course we stopped (more than once) at the greatest beignet (french doughnut) shop in the world! There are no worlds to describe how awesomely delicious these powdered pieces of heaven are.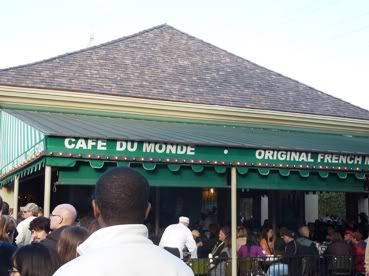 Central Grocery- mmm muffelettas! A little specialty grocery shop located on DeCanter Street makes the city's best muffelettas. The line is long, but goes quick, as you choose either a half size or full size sandwich. You'll be drooling over the olive salad in no time.
Pat O'Briens
- we spent an afternoon at this piano bar near Bourbon Street. It was filled to the bring with drunken patrons. Everyone had to sit in any seat they could find, but that's how you met new people! The pianists, sick of playing Piano Man, I'm sure, were entertaining, the drinks were strong (really strong), and it was a fun way to relax.
Parades. Ahh, the parades. What is there to say about the parades? There are endless parades for six weeks leading up to Mardi Gras, and the days we were there, they were all filled with massive crowds and massive piles of trash. They were awesome! Tons of beads and cheap crappy plastic merchandise you really have no use or want for, but you bet you'll be pushing, shoving, and playing tug-o-war to get some. Note of advice-
bring gloves!!!
When your hands are partially frozen and numb, strings of beads flinging through the air
hurt!!!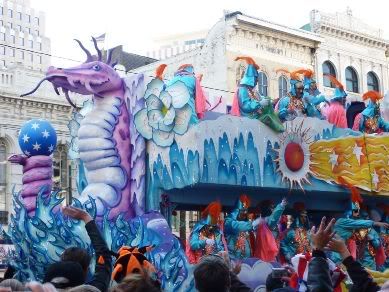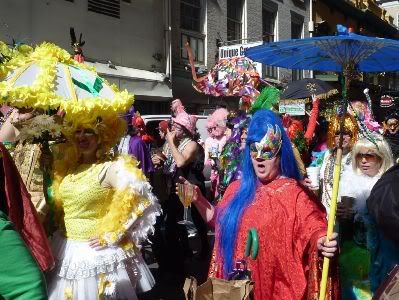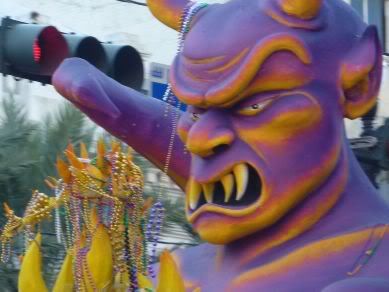 New Orleans remains my favorite city to visit in the US (so far!). This trip was a success!